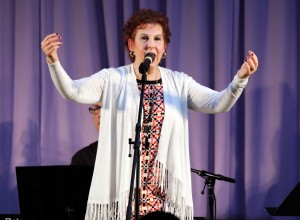 Rochelle Helzner, backed by the five-piece Mark Novak Band, rocked the rafters of Tikvat Israel's social hall on Sunday, Dec. 13, during a concert billed as "Rock of Ages: Jewish Music With a Contemporary Beat."
The synagogue's annual Cantor's Concert drew more than 200 music fans to the single-set, 16-number show.
The central performer assumed a fitting look for the evening with curly red locks and a loose-fitting white sweater with lengthy frills. When she first took to the stage, Cantor Helzner told the audience: "Well, as you can see, I rock. But what you can't see," she added, gesturing to her clothed shoulder, "is I got a tattoo of the TI logo. … Is that permissible, rabbi?"
The 80-minute concert covered an array of hard-charging, up-tempo numbers, many drawn from liturgy and several relying on music composed by Israeli and American rockers, including Detroit-born Bob Seger. Novak, who has fronted his own band for more than a decade, performed his own composition, the "Chanukah Rap," and the quietly reflective "To Us All."
The cantor drew on the musical talents of high school senior Sarah Wagner for a percussion-driven version of "Adon Olam," and she asked Rabbi Benjamin Shull to join all of the musicians on stage and take the lead on a verse during the final number, "Higher and Higher," a Shlomo Carlebach composition.
Mary Wagner served as chief organizer of the Cantor's Concert, which serves as the largest single-event fund-raising affair on the Tikvat Israel calendar. A reception in the Gudelsky Lobby followed the concert for higher-level event underwriters.