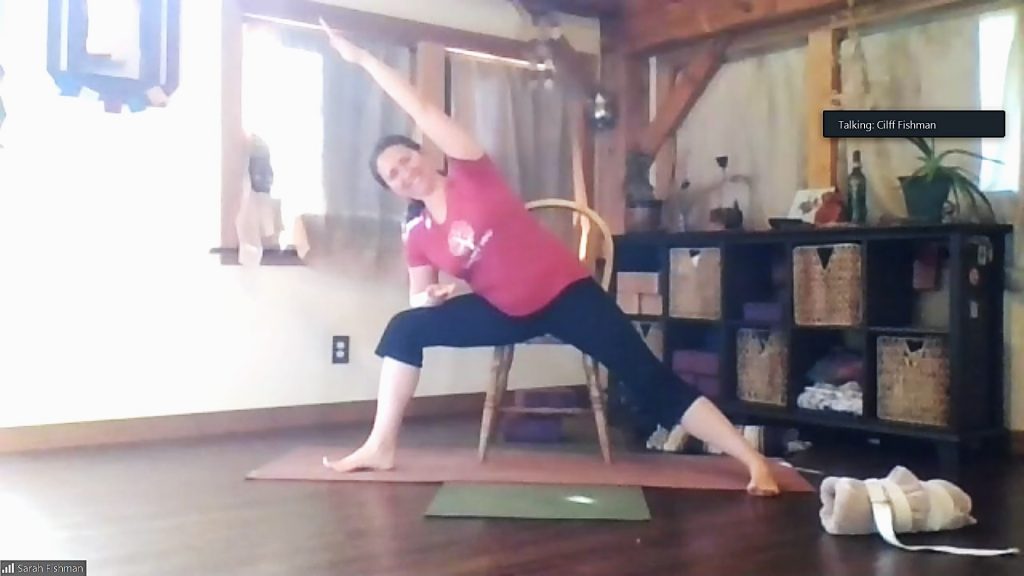 More than 20 Tikvat Israel members have regularly taken advantage of a virtual yoga course that's been run by Sarah Fishman during the coronavirus epidemic.
The classes meet from 4 to 5:15 p.m. on Thursdays, taking place via Zoom video conferencing software. "We start the session around 3:40 so that we can see each other's faces and connect and to get anytechnical troubleshooting out of the way," Fishman said.
She does not charge for the online class but encourages donations to Tikvat Israel. Her yoga classes have run in the synagogue's Flax Library for the past decade, and she did not want the state government's order to stay home during the public health crisis to stop folks from remaining physically active.
"It is very important that we keep moving and keep our bodies, minds and hearts healthy during this time," Fishman said. "The class is currently designed for bubbes and zaydes, though having children or grandchildren is not a pre-requisite."
Her classes incorporate a lot of strengthening and stretching, and she teaches various yoga poses, as well as exercises that emphasize function, balance, joint stability and mobility, and above all else, what she calls "deep, calm and continuous breathing." The yoga exercises work on the floor, standing, leaning on a chair and positioning against a wall.
Almost all of the participants are Tikvat Israel members. Rabbi Israel and Cantor Helzner showed up for one class, and even Chuck and Louise Chatlynne, long-time TI members who relocated last fall to Southern California, have logged on to participate.
Contact Fishman for how to access the Zoom videoconferencing site at namastesarah@gmail.com.