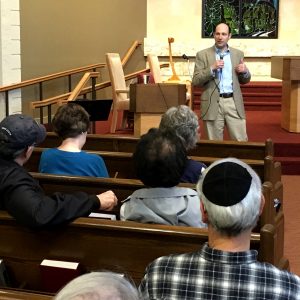 The Tikvat Israel adult education program includes educational courses, lectures and movie screenings designed to enrich the cultural and spiritual lives of our congregants. Programs focus on many aspects of Jewish life. Past events have included:
Israel Film Fest Two evenings of Israeli Film at Tikvat Israel Congregation on the final two Saturday nights of January.

Tikvat Israel U Generally held in late February, this day of learning features Tikvat Israel members teaching short sessions throughout the day.

"La'asot Tzedakah U'Mishpat: To Do What Is Just and Right 2021" A series of seminars designed to educate on the topic of racial justice.

African American History Class Seven Chapters of African American History with Mr. Jerome Price
All programs are announced in the Bulletin, B'kesher, and our on-line forums.
If you have ideas and energy, we'd love to have you on the Adult Education Committee. Make a difference. Share your vision.
Contact: Sally Kram